High Quality Hunting Backpacks and Gear
Bruzer Gear brings you camouflage, waterproof, durable, comfortable, and versatile hunting packs and accessories so that you can be rest assured your gear will last hunt after hunt.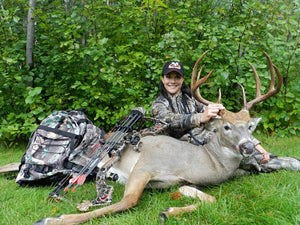 The Bruzer Gear Promise
Bruzer Gear stands behind the quality of our hunting backpacks, packs and hunting accessories. That's why we provide a lifetime warranty on our products. 
Each of our packs and accessories are waterproof, durable, and patterned with our proprietary blend of camouflage that is designed to blend in with your surroundings.
When using Bruzer Gear in the field, you can be sure that it's going to stand up to the conditions of your hunt.
Testimonials
What I look for in a pack, is Comfort, Roominess, and Durability- My Bruzergear pack has it all-it is very comfortable in it's design to spread the packs weight throughout my back, has TONS of room and pockets, and it is durable! This zippers are very quiet and hold up! What a FANTASTIC PRODUCT! 

Todd Stittleburg | Antler King Trophy Products Inc.
My Bruzer Gear pack was a very intregal part of my hog hunt at the Fowler Ranch in Colusa County, California. The Bruzer Gear mid-size pack is perfectly suited for California big game hunting and the binocular harness and spotting scope case gave me further comfort and confidence in the Bruzer Gear system. The toughness, versatility, and comfort is unlike any pack I've used before and knowing that there is a lifetime guarantee upholds my assurance in Bruzer Gear. I'm looking forward to using Bruzer Gear in all of my future hunts..

Anoop Sagar
I liked Bruzergear Backpacks so much during my hunts over the years. Great product. Light weight and waterproof. I hope you enjoy the backpacks as much as I do.

Chris Stack
Here at The Outdoor Journal TV, we only use those products we deem as the best of the best. We trust only Bruzer Gear when it comes to packing in our camera gear or packing into a remote area in the pursuit of monster whitetails and only recommend these packs to those who want the best and who want their gear to stay dry no matter what the weather may be.

Chris Tripp | The Outdoor Journal TV
I carried your main pack system for at least 40 or 50 miles and it is the most comfortable pack I have ever used. We only had to pack my hunter's ram about a mile and a half, but I carried most of his ram myself in one trip with your pack. In the photo my pack probably weighs 90-100 lbs and although I was tired when we reached the trucks, I never had to stop. The weight in my pack was heavy, but comfortable to carry. I have several more hunts lined up this winter and there is no doubt what pack I'll be carrying!

Gino | Wullkotte, AZ